1. Allah akbar! La allah ella allah! (praeludium / incantatum solstitium)
1:51
2. Tenebrarum oratorium (andamento I / erudit compendyum) (interludium / incantatum oequinoctium)
7:25
3. Tenebrarum oratorium (andamento II / erotic compendyum)
6:02
4. Opus diabolicum (andamento III / instrumental compendyum)
4:22
5. Chorai lusjtânja! (epilogus / incantatam maresia)
1:46
total time
21:26
Line up

Mantus Iberius Daemonium: Six string occult citar
Tanngrisnir Imperator Ignis: Six string celtic harp
Langsuyar Tenebrarum Rex: Dramatic, erudit vox and passioned metaphors
Neophytus Lupus Maris: Ethnic and tragic ambience keys
Nisroth de Occulta Fraternitatis: Traditional, classical and vile percussions
Tetragrammaton Tremendae Majestatis: Four string arabid 'ud


Artwork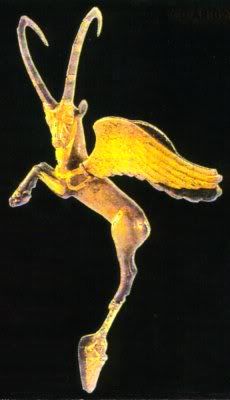 Info

"QUOD SCRIPTUM, SCRIPSI"

With the strong conscience of having something new and true to offer
and with the Nietzchenian statement which opens Moonspell's biography
as our assumed motto Moonspell evoluted and conquered a private status,
moving into a highly philosophical and erotic lyric field and into a
southern, meditteranic and ethnic musical context diving deeply into
the roots of our culture. The result is at your hands and at your ears
and possibly at your heart.
"Tenebrarum Oratorium" (andamento I / erudit compendyum); "Tenebrarum
Oratorium"(andamento II / erotic compendyum) & "Opus Diabolicum"
(andamento III / instrumental compendyum) are indeed three opus of
inaugural,
ethnic and symphonic satanic music, pure art, combining intelligent and
felt poetry and philosophy with aescetic, classical and atmospheric
melodies which will drive you into an unique and very precious erudit
zenith.
In an opaque context of frigid creations and common sense rude copies,
what Moonspell offers you is the fire of the south, the overwhelming
meditteranic music, the immense atlantic power,
the sadness and solitude spoken by the sea winds and the sapient words from the cradle of all thought and will.
So we welcome you and your senses to this musical piece in the hope
that you travel beyond our music and words, but with them by your
companions to your own ground of disobbedience and intellectual ecstasy.
All under will, our will!

All music by Moonspell
All additional instruments' compositions created by Moonspell and performed by:
Bisel flute - Sara Carreiras
Violin - Nuno Flores
Lyric feminin vox - Antonieta Lopes
Sara Arega moans on "Opus Diabolicum". Arabic vocals on intro by Abdul Sewtea.
Timpan and gong were gently cedeed by Sociedade Filarmónica Comércio e Indústria da Amadora. We are deeply thankful.
Recorded between December '93 e.v. and January '94 e.v. in Edit Studio,
produced by Quim Monte, whom we thank, and mixed by Jorge Adónis and
Moonspell.
Photos by Jason Williams - Back Door Press.
Special thanks to Christian from Adipocere, all in Edit Studio (Quim, Jorge, Ramiro, and Freddy) and our guest musicians.
The complete layout was conceived by Moonspell. Friendly assisted by João Paixão. Logo by Christophe Szpajdel.