Line up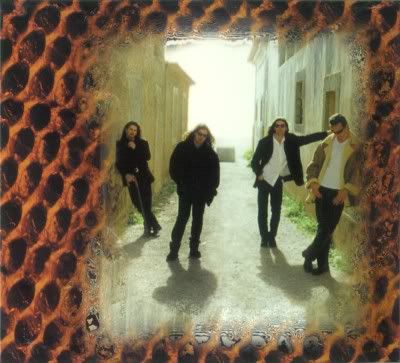 Fernando Ribeiro - vocals
Mike Gaspar - drums
Ricardo Amorim - guitars
Pedro Paixao - synths and samplers
Sergio Crestana - bass
Artwork
Info
2ECOND SKIN was brought to life at the WOODHOUSE STUDIOS (21st july / 19th september)
Under the attention of Mr. Waldemar Sorychta and the group known as MOONSPELL
Mixed with the precious help of Mr. Siggi Bemm.
All stuff was recorded in the studio sessions for the forthcoming album SIN [PECADO] (January 1998)
Miss Miriam Carmo stars on the cover of this EP. Photographed by Mr. Rolf Brenner.
Layout and artistic design by Mr. Carsten Drescher from Media Logistics and MOONSPELL.
2ECOND SKIN is dedicated to the memory of William S. Burroughs (1914/1997)
"Crawl me into your second skin and teach me everything."
All music by Moonspell, all lyrics by Fernando
except "Sacred" by Martin L. Gore (Depeche Mode) (c) published by Grabbing Hands / Sonet.
Livecd:
Captured live during the Perverse almost religious tour year 1997
Mixed by Pit Bender and Moonspell at Minga Studios (Summer 1997)
Live crew 1996/1997: Pit Bender (front of house), Paul "Asti" Bond,
Kevin Papsworth (guitar techs), Markus Freiwald (drum tech),
Chris Hogdekinson, Sabina Woyda (lights), Jens "Bobo" Bornhöft (tour manager), Mari Waagemans (Foh Sep.1996).
Live pictures by João Nogueira 1997.
Alma mater announcement courtesy of Kevin Papsworth at the Metalmania / Poland 1996.
[Bass overdubbed by Sergio - Alma Mater]